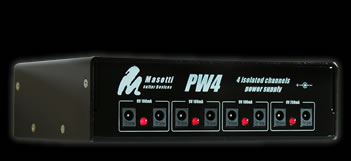 Product Description
Developed in cooperation with professional guitarists, The PW4 power supply is the best solution available for ground loop problems in complex pedalboards. In other words, it is the easiest way to cancel the classic hum introduced by effect power supplies. Each of the four channels is filtered, stabilized and insulated separately, and each delivers the maximum output possible. You can also connect up to 8 devices if ground looping is not required, resolving all problems associated with hum and ground loops in more complex effect scenarios. Three channels are powered at 100mA and the fourth at 250mA, and this unit can be customized to suit your particular needs.
Features and Technical Specifications
Each channel is filtered and stabilized separately and there is a total isolation between the outputs.

We can ship your PW4 with any standard voltage (5,9,12,15 or 18V) in one channel free of charge.
For special needs we can modify a channel with a continuous voltage regulation.

Manual
The PW4 Manual is currently being prepared